Frantic Amber is a melodic death metalband from Sweden. After listening to the brilliant new album called Burning Insight I had a lot of questions to Frantic Amber-vocalist Elizabeth Andrews.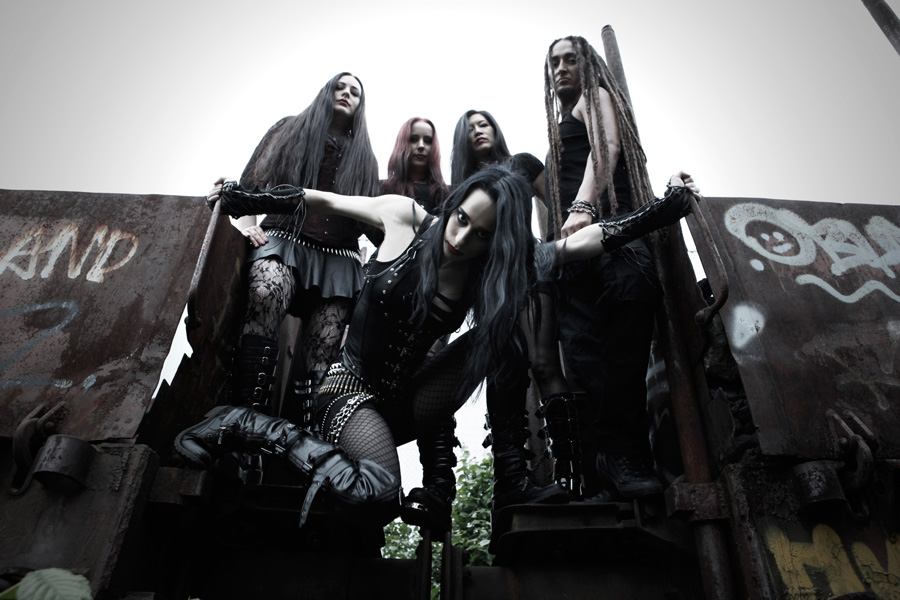 FRANTIC AMBER is a colorful band in many ways. Besides containing four females and just one male,  the members are originaly from Sweden, Columbia, Denmark and Japan.
Even though Frantic Amber is a non political band, Elizabeth can write lyrics about both bright and darker aspects of life. She lives in Sweden, but are originaly from Denmark, but with a twist. Her last name (Andrews) comes from her fathers side, so she is half american.
You became a member of Frantic Amber when answering an add on Bandfinder.
Did you have any vocal experience in former bands? 
– Frantic Amber is my first real band where we write everything ourselves.  I have played a lot in ensembles, big bands, orchestras and such during my time at music school when I was growing up, where I played the piano and saxophone. I also sang in some small cover band projects from time to time.
You went to a balletschool in Sweden. Why are you not dancing like a swan in a big Russian ballet-hall?
– I've always been a person with a wide variety of interest, dance and music being the main ones and I missed playing music when I was at The Royal Swedish Ballet School, so that's why I reached out to Mary's add. I believed in Frantic Amber and decided to stay around in Stockholm after I graduated my dance exams to pursue my other dream of music. I felt the need to create and express myself through the genre of metal which I use to channel my feelings and expression. The harsh reality showed itself thought, that I couldn't do both at a 100% at the same time. It kind of just turned out this way because of a lot of things, but I'm hoping to dance again someday.
Frantic Amber used to be a girl band. I guess it wasn't randomly? 
– Yes we started out as an all-girl band and it was something we were seeking to form, but when it didn't work out we started working with guys on drums since we couldn't get a girl and it's really no big deal. It doesn't matter that much that we are all girls or not, what matters is the group dynamic and having correct skills for the job. The trademark stays pretty much the same though since we're still four girls at the front of the helm.
Many of us thought that it was a joke but when we followed the sound to see who it was we saw an armed SWAT-police who was stationed at the top of the mountain in the direction we were heading.
The colorful mixed blend of band members from Denmark, Sweden, Columbia and Japan is kinda exotic. Even though the members have been living in Scandinavia a long time.
Are different origins part of making Frantic Amber a little bit different from many other death metal-inspired bands? 
– I think it's a fun fact about the band and adds to the mixture of our dynamics but most of all it's the blend of five very different people with very different backgrounds, influences and inspirations. We meet somewhere in the middle of all that and that's what makes us create something interesting together.
After listening to Burning Insight several times, it really grows and you notice little details and elements which makes this my favouritealbum at the time. I´m also thinking about Machine Head, Legion of the Damned and Slayer, but also a little bit of elements from the gothic scene and of course Dani and Cradle of Filth.
Elizabeth tells about the old songs from the EP; Wrath of Judgement – 2011…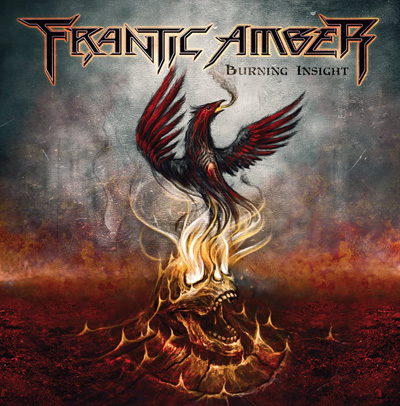 – All the songs on our debut album Burning Insight are recorded and produced from scratch in order to maintain the same kind of sound. Some of the old songs have evolved since the first recordings and we have worked with them to improve them as a whole. Burning Insight is a gathering of the old and the new and completes our journey to finding our sound signature.
Can you tell a little bit about the production for Burning Insight? 
– We produced the album together with Pelle Saether of Underground Studio and he really put together the exact sound we have been looking for. It was very challenging for me to record the album because I felt such huge amount of pressure. I wanted it to be perfect! I'm very happy about how it turned out and I feel that my hard work paid off. I hope that I will have less anxiety next time.
There are only three members from the original Frantic Amber. What happened? 
– We wanted different things musically and it didn't work out basically. In order to push a band forward everybody needs to be going in the same direction and there has to be a positive and creative environment. If the band was to survive, parting ways was the only way to keep it going.
What is the advantage and disadvantage about being mostly girls in a metal band on tour?
– Sometimes it's hard to find a place to change clothes when we share backstage with other bands, which usually consists mostly of male members. But normally we can work something out with the promoter or the other bands to gives us some privacy at least for a little while. Also it's hard to know sometimes if fans are fans of your band or if they are just trying to hit on you.
Advantages I guess are that some people want to check us out live because we are girls, because there aren't that many girls in metal bands. That can lead to getting new fans if they like the music and the show. I think that we are a positive example and an inspiration for other girls to start metal bands as well.
Frantic Amber had a rather exciting meeting with the police during the production of the upcoming musicvideo of SOAR.
What happened?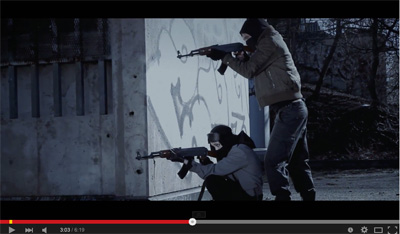 – I actually wasn't there. We had three days of recording since we couldn't get all of us on the same dates, so this happened the day I wasn't there and I missed all the action ;-) According to the others, this is what happened:
– When we had filmed all the scenes except for one we began to pack our stuff so that we could film the last scene. The same second we started to walk we hear a man's voice shouting very aggressively and decisively «Everyone, lie down on the ground now, hands where we can see them!». Many of us thought that it was a joke but when we followed the sound to see who it was we saw an armed SWAT-police who was stationed at the top of the mountain in the direction we were heading.
We all understood there and then that it wasn't a joke so we all dropped down on the ground lying with our hands in front of us. Then we got to stand up slowly and with our back against the wall in a line. We explained to the police what was going on and that we were shooting a music video. We hadn't thought about that anyone would call the police because the first area we were filming in no one could see us and the second location was higher up and from there only the neighbor's from across the street could see us. We thought that all the cameras and retakes of the scenes would be a sign of a video shoot but someone had called it in. A helicopter was on its way and when we had talked to the police they were very kind and all through the whole raid very professional. We learned our lesson, call the police before filming a video with replicas of weapons. The SWAT team asked for a Frantic Amber CD so we sent them a copy the next day.
The content in SOAR is about Stephen Hawkins future vision about Artificial Intelligence taking over for humanity.
Who came up with this idea?
– It was our awesome film team that pitched the idea to us and since we liked it a lot we started working on putting it all together and planning the recording specifics.
– I think she would be impressed by the musicianship and the significant stage presence and feel the energy exploding from the stage!
Elizabeth Andrews is writing the lyrics for Frantic Amber.
Are the lyrics all about death, misery and post-apocalyptic hell, or is there some hope in there as well?
– I write about a lot of different things, some are about misery, anguish and dark themes, but a lot of them are very positive self-empowering lyrics that will pick up the listener in its powerful message. Other lyrics are fiction stories or about issues of the world. The main purpose of my writing is to make the listener feel something.
Frantic Ambers image is just great, and looking at the new pictures, it seems like you have a good plan.
Do you get help and advice from a special designer, or is this so easy for you all to manage yourself?
– We manage everything ourselves and take help from others when we need it. It's important to keep up a steady flow of events such as pictures, videos, shows etc. in order to stay active as a band.
How important is the visual image for a band like Frantic Amber?
– It's important for us to feel as a united front and that our image is one with us. We choose clothing that we like and have themes of for example color to match and complement each other.
The release date for Burning Insight is 17. april, but it was first advertised for release in september 2014.
Why the delay?
– We decided to release the album in Sweden only because we would try and see if a record label would pick it up and distribute it worldwide and sign us. Since it didn't happen like that we found a great working relationship with Border Music which has now distributed the album internationally.
Your first release was in 2011. After that, there has only been a couple of singles in 2012 and one single in 2014 before the new single, SOAR in 2015.
What have Frantic Amber been doing in the meantime?
– We have been gigging like crazy! Frantic Amber is a live band more than anything else and this is what we love to do. Since we are not signed to a label with money to push us forward we had to find funds ourselves and that takes a while. We have been working hard to get the word out regarding our band and played as many shows we have been able to.
Do you have any work beside Frantic Amber?
– Yes, I'm a software developer and work full time.
…and what about family?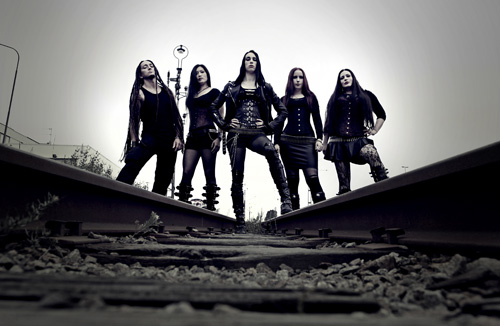 My closest family live here in Denmark and I am engaged to the most wonderful man in the world! I have a whole lot of family in America and South America as well.
I guess and hope the fans will be able to see Frantic Amber on many live stages in 2015.
What´s the plan so far?
– At the moment we are going to play at Metallsvenskan in May and Sweden Rock Festival in June. Other than that we are still booking shows so anything is possible and we plan to be back in Italy and the Netherlands later this year.
Do you have any ritual and practice concerning your voice ?
– I practice regularly and it varies a lot depending on how packed my everyday life schedule is. Before gigs and tours I always make extra time and priority for practice every day or every other day to be on top when we go on stage. It's important for me to have intervals, so when there is a period of no gigs then I have a break or experiment with other vocal styles. That way I keep it fresh and more fun so it doesn't become a dull routine.
Elizabeth Andrews is watching a gig with Frantic Amber…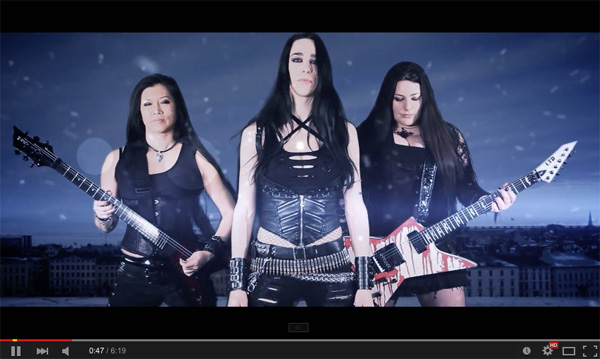 What would she think about the live performance?
– I think she would be impressed by the musicianship and the significant stage presence and feel the energy exploding from the stage!
What is the biggest difference between Denmark and Sweden?
– There are mostly subtle differences such as Danes are generally more direct than Swedes and we can eat smørrebrød for lunch often instead of warm cooked meal but mostly it's pretty close culturally.
Do you have anything to say to the fans of Frantic Amber?
– I want to thank all of our wonderful fans out there that keep us excited about sharing our music with the world. Your support means so much to us and we can't wait to be on stage rocking out with you! Take care and horns up \m/ \m/.
Scoopet.net is wish Elizabeth and Frantic Amber all the best. The review of Burning Insight will be available on Scoopet during a couple of days.
Sölve Friestad – scoop@scoopmanagement.no
Photo: Stalkerphoto.com – Amanda Lindelöf.