This time we will take a look at local brewerys from Spain with focus on Beer Lovers from Alcudia, Mallorca.
BEER LOVERS is a small brewery located located on the north coast of Mallorca. On vacation in Cala Bona, the brewmeister Miquel Amorós Crawford recommended to head for the town of Arta, where Beer Lovers is available at Vinoteca Moya, but also at the bar Sa Torreta. Perhaps there was another local beer in the process?
Read: 18 lagers at Mallorca (Norwegian)
A short taxi at 15 minutes from Cala Bona led me to a small but cozy village. The place is easy to find as it is situated almost directly next to the Civil de Guarda with a Spanish flag on the wall. After a quick trip to the wine shop Vinoteca Moya one could discover that they had all Beer Lovers in stock for € 2.5 pr. bottle. The choice, however, was checking Sa Torreta and enjoy locally craftbeer in the sun. This is a cozy pavement café where the beer is cooled in a closet at the entrance.
I had the most faith in the brewery's IPA. All bottles are 0.33 liters and the price is 3 €.
Beer Lovers
India Pale Ale HOP • 5.5% • IBU 50
Hops: Cascade, Chinook and Columbus.
My first attempt was a great bloke, quite crispy and above average bitter and dry. The color is golden dark, where it smells like a good IPA with fine hops aroma. Good mouthfeel, nice carbonation and a positive element from a guy who lives in Cala Bona, where there is only sweet and commercial wheat beer from Germany as well as countless lagers. An absolute approved IPA – no taste bomb of dimensions, but it is also not necessary in the heat.
Ratebeer: 4/5
Pale Ale Broll • 5% • IBU 35
Humle: Herkules, Centennial, Chinook.
The color is maybe a little bit more brownish than your regular hoppy Pale Ale. The carbonation dissapears kinda quickly from the glass and relates by sight towards red ale kinda beer.
After tasting several kinds of beer during the holidays, I would of course chosen this one as a better choice if one wants beer with character. The beer has a certain bitterness and acidity that works well and is pretty fresh and fruity. There is no flavor bomb, but a nice and mild balanced character. Fair enough.
Ratebeer: 3.2 / 5
Witbier Blat • 4.5% • IBU 15
Hops: Hercules.
During a trip to Mallorca I usually take several bad choices. One of them is that I always order a German Weisbier Paulaner or Erdinger. Personally this beers is always to sweet, where I never see the bottom of the glass before giving´up.
The approximately Belgian answer to the indictment Weisbier is Wit, who is a fresher variant – preferably with coriander and orange peel.
Beer Lovers Wit is quite sparkling with appealing appearance and good carbonation. This beer is still too thin and memories really relates to a lager, and reminds me of a Spanish lager called Cruzcampo. Therefore, this is a disappointing option within the genre witbier. As a pilsner is the refreshing enough, but the beer fails in genre. The color has only a slight tinge of color in the direction wit, but most closely resemble pilsner. Witbier Blat is otherwise something sweeter than originally Wit, but there is also no sign of genre Weisbier. Therefore, it´s really not this or that.
Ratebeer: 2/5
Whatever variables in beer, Arta is a pleasant place to be. While I enjoy a good drink opens a pretty, sheltered and determined girl opens her little shop near by. The girl decorate and care for a small exhibition outside the store and enjoys it. There are no bad copies of clothes from Armani, Ed Hardy, Gucci and such tuft, but the real joy and Crafts. The shop is called Happiness and it is a great feeling to see a proper shop without touristy items.
In Arta life is even more sober and comfortable, where the smiles are genuine towards each other, towards the neighbor's shop and a chance to be themselves from their own country.
Sa Torreta were empty for the Experimental Porter from Beer Lovers, but I could buy with from the wine shop before returning home to Cala Bona. It was time for Amber Ale – A bastard genre I mostly despise.
Amber Ale • 5.5% • IBU 25
Hops: Hercules, Celeia.
With Celia-hops from Slovenia I discover a style between boring Amber Ale-style and the more interesting Brown Ale. Foam disappears instantly and pretty bubbles hanging around the glass. The beer is slightly fruity with a hint of coffee aroma. The color is relatively amber, but the beer is something indefinable. A good tip for this beer would have been a good addition of coffee beans and chocolate-malt. This rests namely a good respet for a real good Brown ale. Just a shame it falls between two genres and is somewhat futile. Get Amber out of brewing, I say.
Ratebeer: 3/6
Other craftbeers from Spain
Sa Torreta also had some other craftbeers from Spain.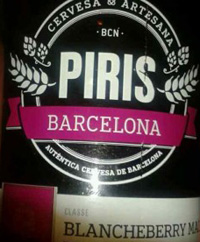 Piris Barcelona – Blanche Berry Mallorca Fruit Mores • 5.8% • IBU 15
Here is the same IBU (International Bittering Unit) as Beer Lovers Witbier. This is a different type of beer, as a thinker in the direction fruit when it's image of a berry or anything but crap in it. How long was really Adam in Paradise and was he there at all?
Blanche Berry is what one should call for a watered dishwater. Sure there is hints of berries, but it´s also a sign of violent unpalatable, strange smell and a somewhat odd mix of what would have been the result of a lager with berries. Besides offering beer at low carbonation, little foam, and whether or not aroma and smell has already killed the taste buds, the first sip do it. Should I simply let the weather to drink up this beer, despite the fun-filled alcohol content? Yep, why not?
Ratebeer: 1/5
Balearis Estiu – Pale Lager • 5%
Put like that, this is a so-called limited edition. Luck. It's pretty hard to get especially with info out of the label, so I guess this is less tourist-friendly than others. The beer smells lager and tastes like one. Some malty sweetness and metal in the aftertaste makes one appreciate that this only becomes a limited edition. Hope to never see or taste this again.
Ratebeer: 1/5
Day went to afternoon and to night and it was time to get back to Cala Bona. The wine shop had obviously closed, so Beer Lovers porter is still untasted.
I stand otherwise somewhat surprised that there is no better beer alternative in neither Cala Bona or Cala Millor which is about the same place. As a knight of the Round Table, as a well-intentioned Conquistador, or as a jerk tourist from Norway, I found out that it had to be possible to get into Beer Lovers IPA at a couple of restaurants/bars.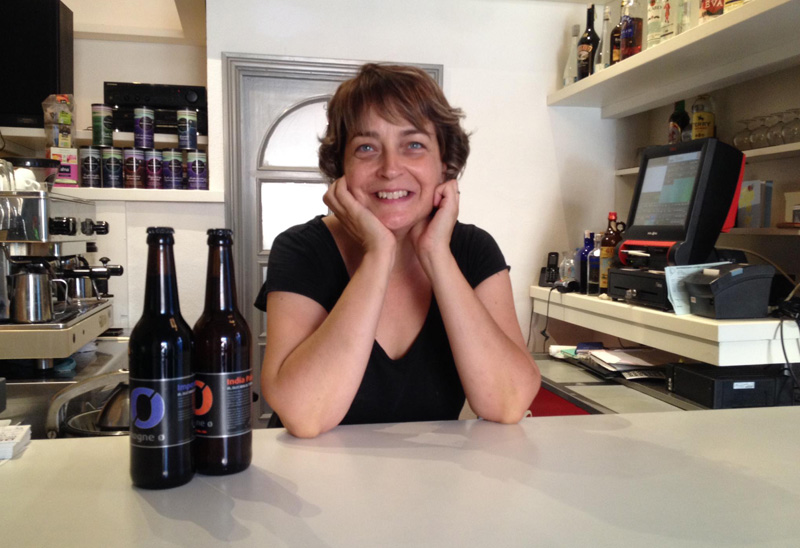 I promoted the local brew at three different places and put them in touch with Miquel. What happened afterwards I do not know, but I have my suspicions. No one knew really what an IPA was, and one of them thought that it could be difficult to take in specialty beers. They had in fact Thai Singha Lager and it did not sell were well. Wonder why?
I have my hope for Beer Lovers to sells a lot of beer and hope they brew a real good Saison, which would have worked very well in Spain.
Beer at the airport
At the airport in Palma on my way home, it was time for a nice surprise. Street to repatriation was a good piece of «inward» at the airport. After milled through the ordinary tax-department, we finally ended up outside a sweet, small duty free shop selling herbs, oils, spices and more. In a refrigerator was also selected Spanish craftbeer. I bought three bottles with was possible to drink in the departure hall. Nice.
Dexativa, Valencia • Let Socarrada • 5%
This is a unpasturised beer that is no option for my palate. It is added rosemary and rosemary honey, and that's exactly what it tastes. Really no particularly good beer. The first sip was interesting, but then it was too distinctive. Only for rosemary buffs, if they exist.
Ratebeer: 1.4 /5
Goose – Cerveza Artesana Pale Ale • 4.5%
Pale Ale from San Ildefonso which is around 54 km from Madrid. The beer has a nice sting despite only a few millimeters with foam. Here are also good notes of hops and going in fruity direction passion- and grapefruit. Nice tangy aroma with noticeable malt character. Slightly more fruity than a traditional Pale Ale, but no large gaps on the basis of genre. There was something appealing and different with this beer with inviting label.
Ratebeer: 3.8/ 5
Cervezas artesana • Furia Aora • 5%
Although it´s somewhat difficult to find much info about this beer, this is a very good lager on both taste and golden color. It's actually a good lager with own character to some extent and very fresh, with well toned and hops. Kudos for a nice fruity hint towards pale ale and a fresh acidic odor.
This is a a good choice if one were to get hold of this. Craftsmanship within genre with appealing carbonation.
Ratebeer: 4/5
Text and photo: Solve Friestad – scoop@scoopmanagement.no