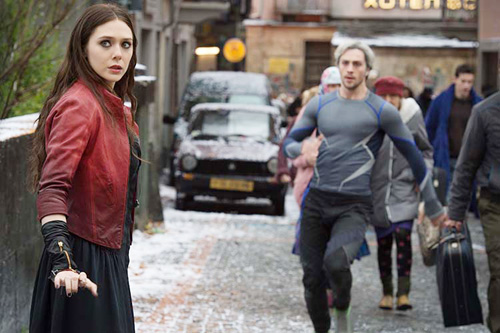 It´s time for the second chapter for the Avengers-fans, and once again meet Thor, Iron Man, Captain America, Hawkeye, Black Widow, The Hulk and Nick Fury, but also new characters like Ultron and the cool Scarlet Witch. 
Review: AVENGERS: AGE OF ULTRON 3D. (Premiere in Europe 22. april). The action starts before you´ll get the chance to tell your friends to grab some popcorn from your bucket, when the entire gang of Avengers, looking for Loke´s Septer. Even if our heroes finds the septer, it´s only the begining of a major problem featuring badass Ultron (Voice of James Spader).
Tony Stark works hard to keep the peace with his own designed program, but Ultron has other plans, and while comparing himself with Pinocchio, singing about having no strings attatched, he will do his best to kill all humans on earth.
The Avengers must once again fight a battle against a villain who has many decks of cards up his sleeves. Once again it´s time for one actionpacked movie, which also has time for feelings, a hopeless love affair, and silence before battle.
Will the mindcontrol defeat muscles, or will it not? Will some of the heroes die? Probably not.
Avengers: Age of Ultron looks ok in 3D, but you will also be fine with 2D,. Sometimes the movie makes me think about the god old times without blue and green-screen. Some of the fightscenes are so fast that the eye will not catch the blury details which probably is not there in the first place because of lesser stunts and moore computer graphics. The plot is like å medeocre James Bond-movie, where Ultron just lacks a white cat, flesh and bones where the question is all about global destruction or saving the humanity.
How many heroes do we need in one movie?
It´s only charming for a while with so many heroes in the same movie, but the most die hard Marvel-fans will be satisfied, I guess. Scarlett Johansson, Jeremy Renner, Robert Downey Jr. Chris Evans, Chris Hemsworth, Elizabeth Olsen and Mark Ruffalo as the Hulk are good actors, but maybe to many buildings and cars gets destroyed. JESS, we know the producers of these «big» movies has the technology to do it, but do they have to show the no brain-effects all the time?
And yes, you will see the face of Stan Lee.
AVENGERS: AGE OF ULTRON • Runtime: 141 min. • Director: Joss Whedon
Sølve Friestad – scoop@scoopmanagement.no