Moonspell har blitt veteraner innen å formidle den mer dystre delen av 80-tallets synth og gothmetal-scene. Extinct er en mørk, melodiøs og vital energibombe som fanger de beste elementene fra en velbrukt formel. Down below: Review in english.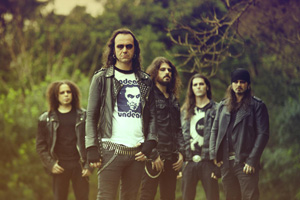 MOONSPELL – Extinct (Napalm Records). De som husker glanstiden med DVD-samlingen av musikkvideoene fra Beauty in Darkness-utgivelsene fra begynnelsen av 2000-tallet, vil huske både Moonspell, Tiamat, Therion og Paradise Lost som er et solid firkløver i samme åndedrag. Om en hører på britiske Paradise Lost etter Host-perioden på begynnelsen av 2000-tallet, er både dramaturgi, musikalske uttrykk og endatil vokal lett gjenkjennelig, og liker en det ene bandet, liker en det andre.
Les også: Intervju fra 1999 med Nick Holmes, Paradise Lost
Extinct er en solid utgivelse med få svakheter og endatil bonuslåtene er bra. Det er bra bunndriv i produksjon, samtidig som mangfoldige musikalske uttrykk er  tro mot mørk og gothisk rock/metal, uten å bli utdatert. Styrken ligger også i velskreven melankoli som gir et spektakulært helhetsinntrykk i vanedannende landskap og kombinasjonen mellom myke og harde parti, hvor vokalist Fernando Ribeiro takler begge deler.
Extinct er rett og slett en sterk og detaljert utgivelse som burde være en god promotør for å gi bandet enda flere lyttere enn de allerede har. Låter som The Last of Us og Domina oser av hitpotensiale som endatil burde appellere til øh…folk flest som tåler vreng på gitar?
Sølve Friestad – scoop@scoopmanagement.no
Dark Pleasure from Portugal
Moonspell has become veterans in conveying the more gloomy part of 80s synth and goth-metal scene. Extinct is a dark, melodic and vital energy bomb that captures the best elements of a well used formula.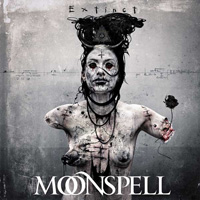 MOONSPELL – Extinct (Napalm Records). Those who remember the heyday of DVD-collection of music videos from Beauty in Darkness-releases from the early 2000s, will remember both Moonspell, Tiamat, Therion and Paradise Lost as a solid four-leaf clover in the same breath. And I can´t help thinking especialy about a compare to Paradise Lost a couple of years after the release of Belive is Nothing (2001) both the dramaturgy, musical expression and even vocals easily recognizable, and if you like one band, you´ll like the another band.
Check: Interview from 1999 with Nick Holmes, Paradise Lost (In Norwegian)
Extinct is a solid release with few weaknesses and even the bonustracks are great. It's good bottom drive in production, while diverse musical expression is true to dark and gothic rock / metal, without being outdated. The force is also superbly melancholy that gives a spectacular impression in addictive landscape and the combination between soft and hard party, where vocalist Fernando Ribeiro tackles both.
Extinct is simply a strong and detailed publication that should be a good promoter to give the band even more listeners than they already have. Songs like The Last of Us and Domina oozes hitpotensiale who also should appeal to uh … people who can tolerate distortion on the guitar?
Sølve Friestad – scoop@scoopmanagement.no