Som tidligere nevnt, er det nesten ingen metal/thrash/death-band som legger opp før døden tar dem. Obituary er intet unntak og slapp nylig en tegneserievideo av låten Violence, som er fra fullengderen Inked in Blood (2014).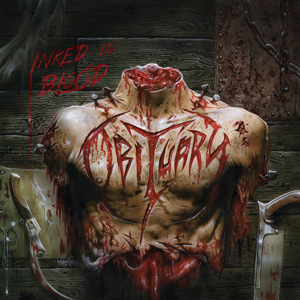 Obituary – Violence. Bandet fra Florida er legender innen faget som jeg i dag vil påstå spiller thrash metal som også minner om den tyske thrashsound. Bandet er i likhet med de fleste andre innen sjangeren, blitt stuerene og mindre farlige enn de var på 80-tallet. Kanskje Satan ikke stod bak produksjonen av slike band allikevel? Albumet Inked in Blood nådde faktisk en 74. plass på Billboard topp 100-listen og solgte fem ganger så mange eks. i forhold til forrige album – Darkest Days (2009).
Obituary har fortjent sin legendestatus med lang fartstid tilbake til 1984, og Violence er en ganske fresh og sjangermessig korrekt låt som svinger bra. Obituary sier følgende om sin nye musikkvideo.
– We had a blast creating the idea for the video and to watch Balázs animate us was a very cool experience. In the world of modern technology it is easy to shoot a music video with a camera crew and high-tech video equipment but we wanted something different. Something we hope the fans enjoy and understand that Obituary, though we are the godfathers of Florida death metal, don't take themselves too seriously and enjoy having fun. This cartoon is a perfect example of what kind of people we are. Not afraid to kick ass on stage but also not afraid to laugh at ourselves. We know that music is created for fans to enjoy and get away in their mind from the real world for just a few moments at a time and this video we hope makes them smile and laugh with us and at us.
Violence ser du HER.
Sølve Friestad – Scoop@scoopmanagement.no