Da var det tid for del to av Green Days planlagte trilogi. Den tredje platen forventes allerede 11. januar. Hvorfor slutte med tre plater? Hvorfor ikke kjøre på med ti plater i samme slengen?  
GREEN DAY – ¡Dos! Den første platen (¡Uno!) i trilogien var ganske bra, samtidig som man kunne håpe på at del kunne by på et litt nytt sound, nye grep eller låter som var like energiske og fengende som låtene fra American Idiot – 2004. Det er vel egentlig ikke tilfelle, og Green Day går på tomgang og setter seg fast i sin egen sjanger.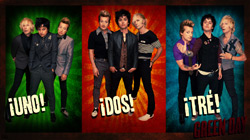 Green Day er enkelt å like, men også enkelt å bli lei av. Det går litt i den samme duren, og det andre kapittelet har få låter som frister til gjenhør. Den er helt grei som bakgrunnsmusikk, og er slett ikke plagsom å lytte til. Men det er få sanger som gjør at jeg får lyst til å vie så mye tid på denne i fremtiden, og blir med andre ord ikke «epic as fuck»!
Green Day om trilogien: "We are at the most prolific and creative time in our lives.  This is the best music we've ever written, and the songs just keep coming," said the members of Green Day. "Instead of making one album, we are making a three album trilogy.  Every song has the power and energy that represents Green Day on all emotional levels.  We just can't help ourselves… We are going epic as fuck!"
Noen greie låter er det allikevel, og på en god dag vil jeg påstå at Stop When the Red Light Flash, Lady Cobra og Baby Eyes er et brukbart Hat-trick. Så mye mer er det for min del ikke å si om denne platen, men et fyldigere referat om Green Day finner du her: ¡Uno! 

Sølve Friestad – scoop@scoopmanagement.no