Til tross for at dette er brødrenes sjette album har jeg null kjennskap til disse finske brødrene. Musikken gir mange type følelser. Alt fra spektakulær stadionrock til kraftfulle balladepregede sanger i landskapet popmetal.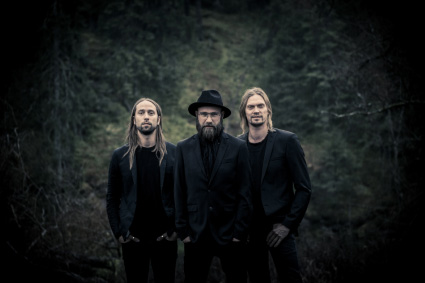 THE VON HERTZEN BROTHERS – New Day Rising (Spinefarm/Petting Zoo). Brødrene har med andre ord holdt det gående i mange år, hvor flere supportjobber for The Wildhearts, Opeth, 30 Seconds to Mars, Foo Fighter og endatil Neil Young bør være noe de fortsatt er stolte av.
Brødrenes forrige album (Nine Lives) ble nr. 31 på Rock Album Charts i England og var også nominert som «Best Rock Album of the Year» av Classic Rock Magazine. I 2013 vant singelen Flowers and Rust «Anthem of the year»-prisen under Progressive Rock Awards i London.
The Von Hertzen Brothers er ikke som The Wildhearts og 30 Seconds to Mars, men New Day Rising har godbiter for de fleste lytterne, hvor fellesnevneren er melodiøse  låter som på noen spor trør til med knallfete gitarriff og melodilinjer som frister til gjenhør. Dette vil bli en såkalt «guilty pleasure» for de mest hardbarkede rocka entusiaster, hvor Mikko, Jonne og Kie Von Hertzen  byr på noe udefinerbart 90-talls og progressiv pop/roc med en dose melodiøs hard rock.
Sjekk New Day Rising, fine men smygende Trouble, Hold Me Up og The Destitute som er solide «power ballader». Legg også merke til albumets kuleste gitarriff på You don´t Know My Name. Den største bastarden på albumet er Dreams, som kan beskrives som The Beatles goes cabaret eller noe i den duren.
Albumet er ellers produsert av GGGarth Richardson som også produserte de tre siste platene til Biffy Clyro, den første utgivelsen til Rage Against the Machine og Gallows – Grey Britain.
Musikkvideo – Trouble
Kanskje Scoopet vil fremstå til spott og spe for å faktisk tørre å gi så pass mye skryt til de finske brødrene. Men jeg turte hvertfall å komme ut fra skapet og være ærlig. Dette er en av mine såkalte «Guilty Pleasures».
Sølve Friestad – scoop@scoopmanagement.no