Jeg er temmelig sikker på at Janis Joplin ville likt svenske Spider. Jeg er også sikker på at Spiders har sansen for Janis Joplin. 
SPIDERS – Control (Spinefarm). Kule Janis Lyn Joplin var en markant kvinnelig vokalist som preget 60-tallets rockescene med utilslørt personlighet og uheldigvis et utagerende liv som bestod av store mengder narkotika.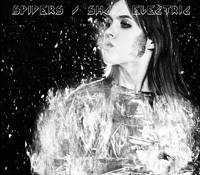 Artisten slet med misbruk av det meste, og var kun 27 år da hun døde av en overdose i 1970. Joplin ble kanskje enda mer populær etterpå, men når en hører på Spiders er det vanskelig å ikke tenke på Joplins «attitude» fra både musikk og fra vokalist Ann-Sofie Hoyle.
Spiders ga ut Shake Electric i fjor, og nå er de klar med ny video fra albumet. Control er i Joplins ånd, selvfølgelig i sort/hvitt og er en utilslørt og upolert rockelåt som er verdt å få med seg.
Spiders om Control: Control is about the most evil of evil – Money, and how money in a way is power and can change a person´s personality. The video was partially shot while being on tour in Spain last descember.
Fjorårets Shake Electric kunne ellers skilte med bandets beste låt; Mad Dog.
SE: Control her.
Sølve Friestad – scoop@scoopmanagement.no