I anledning Blu-rayslipp av Mark Wahlberg og Will Ferrell Daddy´s Home, har Scoopet laget en liste over andre filmer som byr på voksne mennesker som blir dysfunksjonelle når de får ansvaret for barn. Sjangeren er oftest mer urealistisk enn science fiction-filmer og langtfra en favoritt.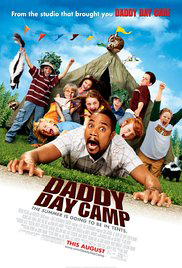 EDDIE MURPHY har gjort det. Vin Diesel, Arnold Schwarzenegger, Ice Cube, Christopher Lloyd, Burt Reynolds, The Rock, Leslie Nielsen, Dolph Lundgren, Steve Martin og endatil Danny Trejo har gjort det. De har alle spilt i familiefilmer som handler om godt voksne mennesker som får store problem når de må forholde seg til unger.
Her er en liste over cirka de fleste jeg fant innen sjangeren. Scoopet har ikke sett alle og ser ikke bort fra at maks et par titler kan være oken, men tviler til det motsatte er bevist.
Konseptet i slike filmer er selvfølgelig kaos før svulstig mellomparti, og deretter ordner alt seg til slutt.
Utvalgte møkkafilmer med møkkakonsept
Dadddy day care – 2003. Eddie Murphy
Daddy day camp – 2007. Cuba Gooding Jr.
Are we there yet? – 2005. Ice Cube
Are we done yet? – 2007. Ice Cube
Jingle all the way – 1996. Arnold Schwarzenegger
Baby geniuses – 1999. Christopher Lloyd og Kathleen Turner.
Cop & 1/2 – 1993. Burt Reynolds.
The  game plan – 2007. Dwayne «the Rock» Johnson
Tooth fairy – 2010. Dwayne «the Rock» Johnson, Ashley Judd.
Tooth fairy 2 – 2012. Larry the cable Guy
The Pacifier – 2005. Vin Diesel.
Mr. Nanny – 2002. Hulk Hogan.
Surf Ninjas – 2005. Leslie Nielsen, Rob Schneider.
First kid – 2003. Sinbad.
Kindergarten cop – 1990. Arnold Schwarzenegger
Kindergarten cop – 2016. Dolph Lundgren
Cheaper by the dozen – 2003. Steve Martin
Cheaper by the dozen – 2005. Steve Martin
Yours, mine and ours – 2006. Dennis Quaid, Rene Russo
Sky high – 2005. Kurt Russel, Kelly Preston
The spy next door – 2010. Jackie Chan.
Opposite day – 2010. Pauly Shore.
Babysitters beware – 2011. Danny Trejo.
sØLve Friestad – scoop@scoopmanagement.no