Siste spalte i nedtellingen til Star Trek – Beyond blir satt opp på kino 19. august. Denne gangen skal vi se på kjente tryner som har vært med i serien.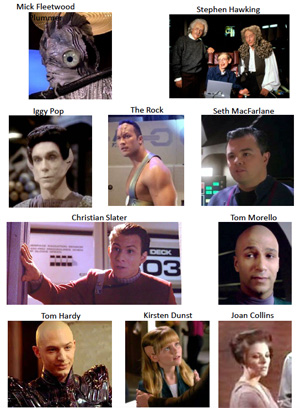 HISTORIEN OM STAR TREK – 4. Det er flere såkalte gjesteskuespillere som har væårt med i Star Trek gjennom årene, deriblant norske Mona Grudt, så vet du det.
Kjendiser som har vært med i Star Trek:
Christopher Plummer: var karakteren Chang med øyelapp i Star Trek IV
Whoppi Goldberg: spilte Guinan i The Next Generation
Mick Fleetwood: trommisen fra Fleetwood Mac var en fiskelskende dignitet i The Next Generation
Stephen Hawking: supergeniet Stephen Hawking spilte seg selv i et avsnitt av The Next Generation. Han spilte poker med Sir Isaac Newton og Albert Einstein
Iggy Pop: rockelegenden var med i Deep Space Nine
Dwayne «The Rock» Johnson: spilte gladiator i Voyager
Seth MacFarlane: skaperen av Family Guy, American Dad og Ted var en ingeniør i Enterprise
Christian Slater: spilte en nattoffiser i Star Trek VI
Tom Morello: gitaristen i Rage Against the Machine og Audioslave var en crewmedlem i Voyager
Tom Hardy: Hardy var en flintskallet klon i Star Trek Nemesis
Kirsten Dunst: en 11-årig Dunst var med i The Next Generation
Joan Collins: såpedronningen Collins var med i The Original Series femten år før hun ble Alexis Carrington i Dynastiet
Ron Perlman: stjernen fra Hellboy og Sons of Anarchy var ugjenkjennelig i Star Trek Nemesis
Kelsey Grammer: skuespilleren fra klassikerne Cheers og Frasier var med i The Next Generation som den skjeggete Captain Morgan Bateson.
sØLve Friestad – scoop@scoopmanagement.no